---
1. Blogging networks
Medium
Medium
is a publishing platform for sharing pictures and text uploaded by users. It is build around collections of stories, with the motto "Everyone's stories and ideas". The network was created by Evan Williams and Biz Stone, former employees from Blogger and Twitter and it was released in 2012. "
The social network is a mix of what works today: Pinterest, Twitter, Instagram and Tumbl, as one of the creators said: We re-imagined the way to publish contents to evolve, based on everything we've learned in 13 years
". The content on the website is organized in different themes according to the user-created collections. The founders also stated that "
Together, the contributions of many add up to create compelling and useful experiences. You may be inspired to post one time or several times a day—either way is okay. If you're more ambitious, you might create a collection of your own
."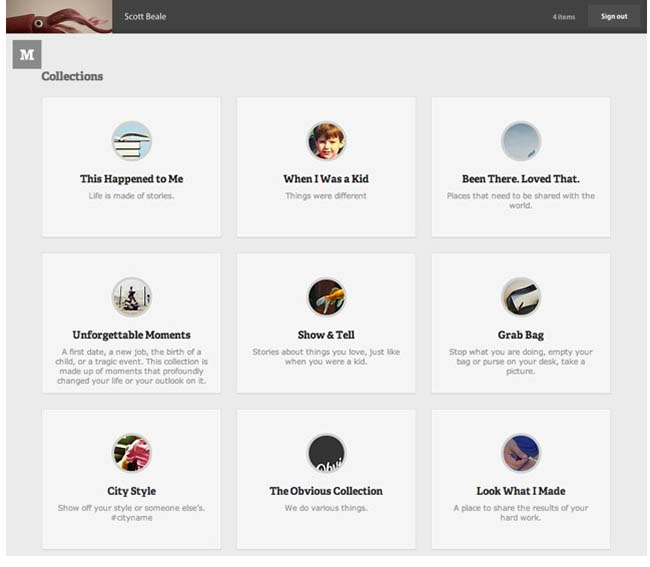 2. Location based networks
Yik Yak
Yik Yak
is a free social media app for iOS and Android. It allows users to share information anonymously within a certain radius. It was created by Tyler Droll and Brooks Buffington and launched in 2013. As the app description states: "
Yik Yak acts like a local bulletin board for your area by showing the most recent posts from other users around you. It allows anyone to connect and share information with others without having to know them
." The concept of location adds certain relevance to the posts. Posts can be up voted and down voted by the users. The notion of anonymous news being local triggers some issues. One of them is cyber-bullying: anonymous rumors can get up voted and spread around the neighborhood, without the ability to trace the resource of information.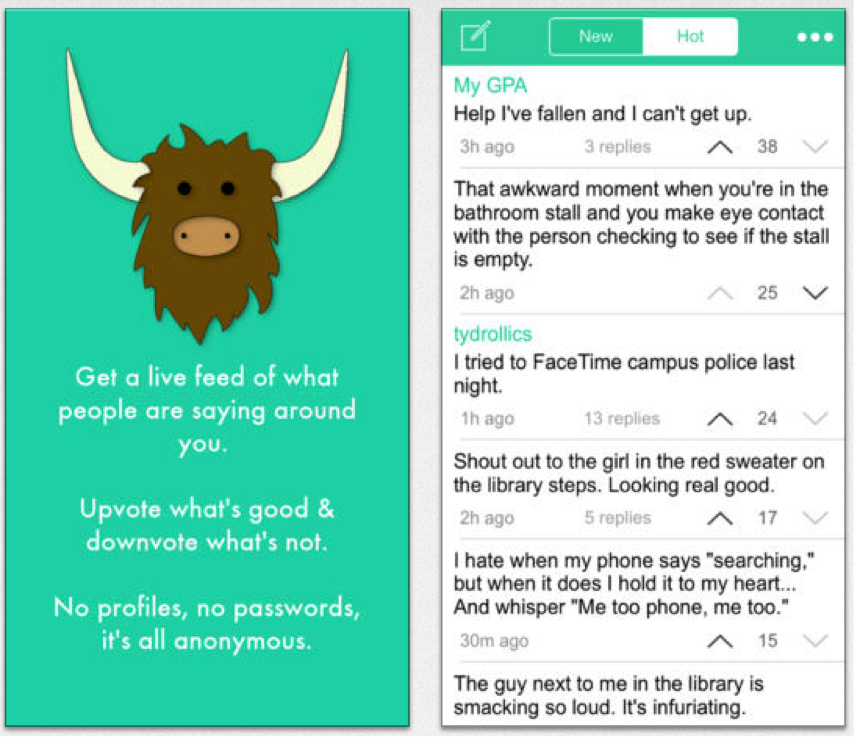 3. Confession networks
Whisper
Whisper
is a free iOS and Android application, that lets users share information anonymously and receive replies. Whisper is a "confessions-based" social network, the main principle of which is the possibility of sharing of intimate information. The app was created by Michael Heyward and Brad Brooks. It was launched on March 31
st
in 2012. Whisper app allows users to share texts that are written on pictures. The main concept of this app is anonymity, that ruled the early days of internet, seems to make a comeback in this app. This social network combines the principle of sharing your personal information and the principle of anonymity. Users can search the "nearby" posts, based on their location. Wisper CEO Micheal Heyward tells Mashable: "
On all of these different social neworking platforms, the core motivation is around ego and vanity […] There's a major impact that this type of social sharing is having on people because it can give an unrealistic perception of what's happening in your peer group
." Heyward believes that Whisper is the answer to cyber-bullying, encouraging users to confess their secrets, without being afraid.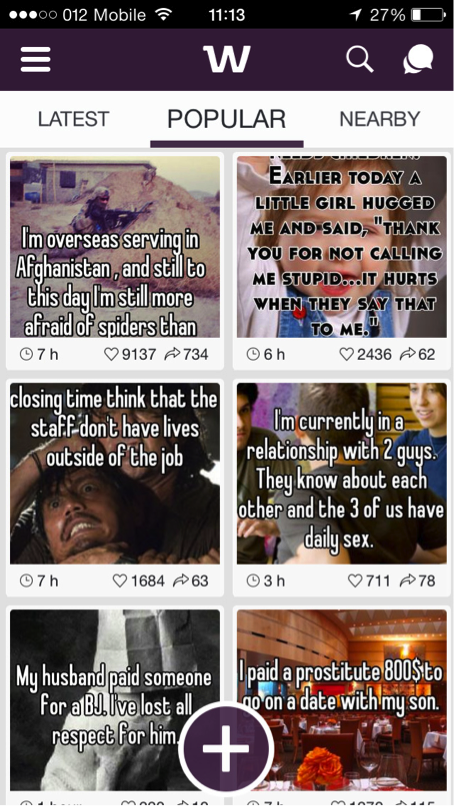 4. Chat networks
Omegle
When it comes to chat rooms, Omegle is an online website that is free and allows interaction with strangers without having to register to the website. The system is carried out through a random process in which users are given the handles 'You' and 'Stranger'. It was started 2009 and its features include text communication and video conferencing, and also an app for various smart phones. it also allows users to connect to their Facebook account to enable certain features such as using the 'likes' on a users Facebook to connect to users with similar or the same choices. There is also the option to choose a topic they would like to talk about.
Over the years, Omegle has faced criticism over the content that is distributed within certain chat rooms. Issues such as nudity and profanity were not regulated till 2013 and has also been criticised over the censorship of such behaviour online and how it would affect children who use it. This is because their homepage only states underage users to use it with supervision but there is no regulation to identify which user underage or not.
5. Fashion, Shopping
Wanelo is a digital social shopping site that was launched 2012 in San Francisco. It links a user to over 350,000 stores that can be accessed from an ordinary computer or via a phone App (85% phone users) Currently Wanelo has around 11 million Users featuring over 12 million products. The user has the ability to follow certain online stores, which means that the user will receive any special offers that have been presented by the store. After following stores and liking item on Wanelo, the user will be given a suggestion of potential items of interest, in an essence creating a unique personalized shopping platform. Additionally users can leave comments and reviews under each item, making it easier for other users to select their product based on feedback. One is also given the option to share the selected items on other social network sites such as Twitter and Facebook.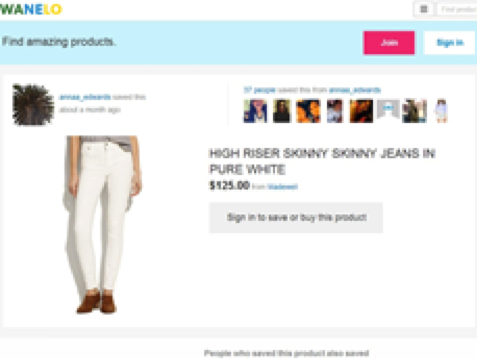 6. Photography, art, boards
We heart it
We Heart It
began in 2007, with founder Fabio Giolito created 'I Heart It', in which he complied images of what inspired him. Towards the end of 2007 he created an official photo-based social network 'We Heart It' and in 2011 it was an incorporated business and it still sticks to the message of inspiration. The features of
We Heart It
include still images, videos and animated Graphic Interchange Formats (GIFs). Moreover, users are able to connect to Facebook, Google+ and Twitter with the ability to connect to user's friend list who also use the network. With the availability both on a desktop website and a smart phone application, We Heart It allows users to feel free about posting something because there are not features of being able to comment or messaging, which decreases negative feedback. In 2013, We Heart It gained 25 million users worldwide, with an estimated 1 million users joining each month. In that same year it was voted
Google Play's
best app and also a 5 star rating on the
iTunes App Store
.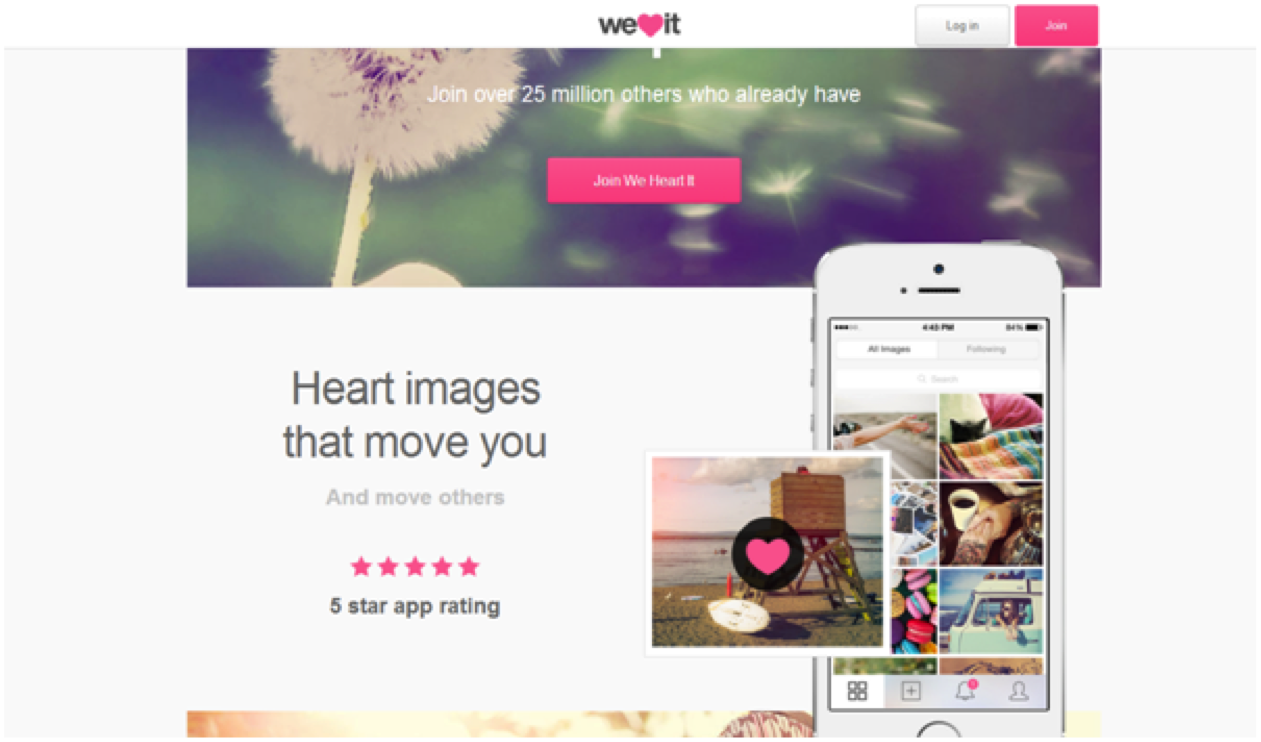 Shots
Shots
is an application for smartphone users to take selfies and other photos through the front-view camera. The co-founders are John Shahidi and Sam Shahidi in 2012, but the app wasn't released till 2013 for Apple phone users and 2014 for Android users. The features include posting selfies and it does not allow commenting or messaging. This allows sharing without having to face bullying or negativity. Moreover, users can not post previously taken pictures. In
2014
, over 1 million people have taken selfies and have shared it. With the endorsements coming in from celebrities like
Justin Bieber
,
Floyd Mayweather and Omar Epps
the application is steadily increasing in its number of followers and it was recorded in August 2014, that it had reached 2 millions users.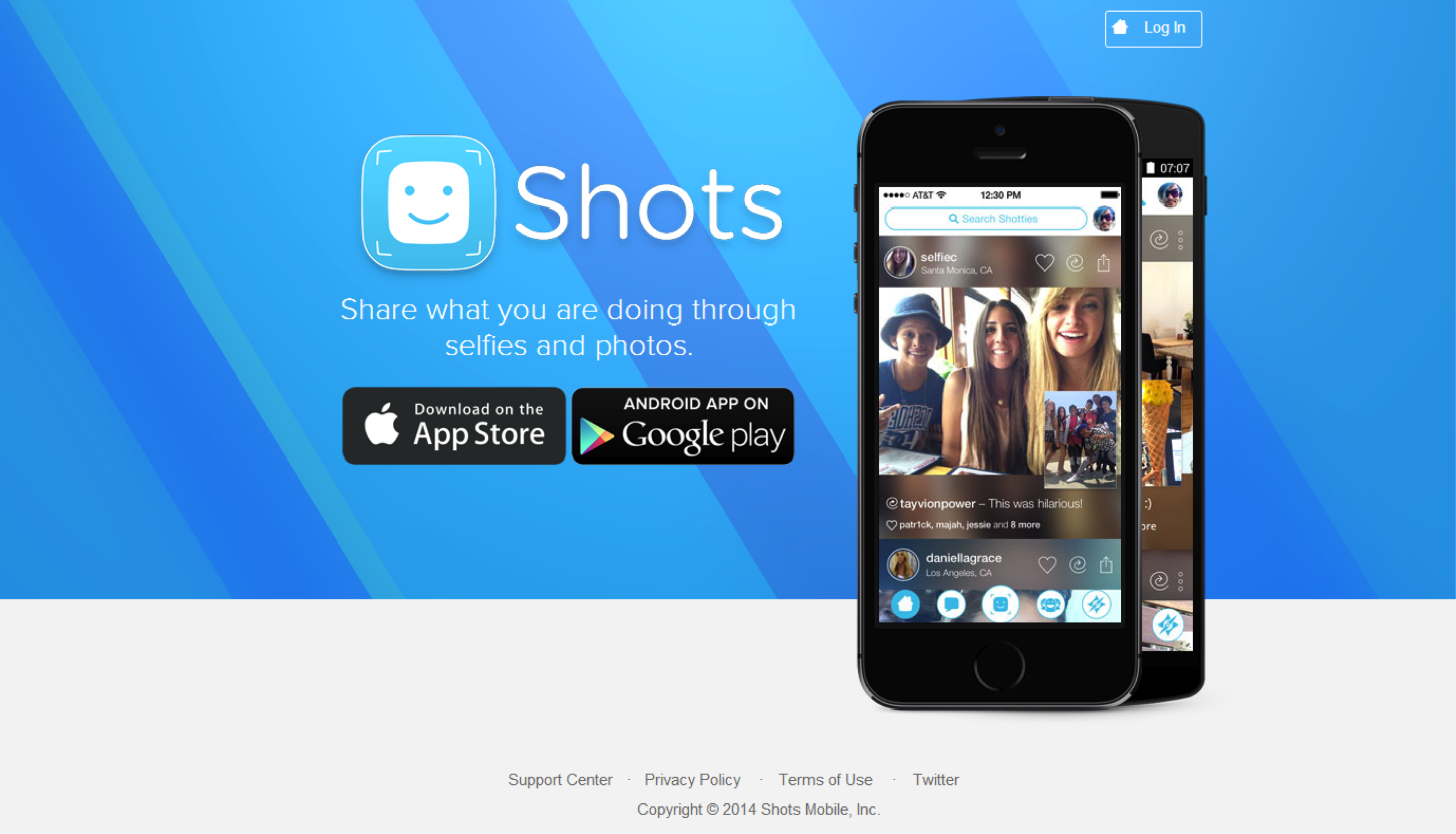 7. Social, personal profile based
Ask.FM (Conversational Q&A service)
Ask.fm
is a social network community in which users have the chance to get in contact with other users from all around the world and ask each other questions. The company was setup in 2010 in Riga, Latvia, and currently features over 130 million users with 49 languages spanning across 150 countries, with
25 billion answers
. The User has the ability to ask the community questions and receive a wide range of feedback from the Users in the form of text or video. This can be done by a general public question linked to the Users profile, or anonymously. The anonymous aspect is one of Ask.fm's main selling points,claiming that users are
more open
and less shy to ask questions when they can hide behind anonymity.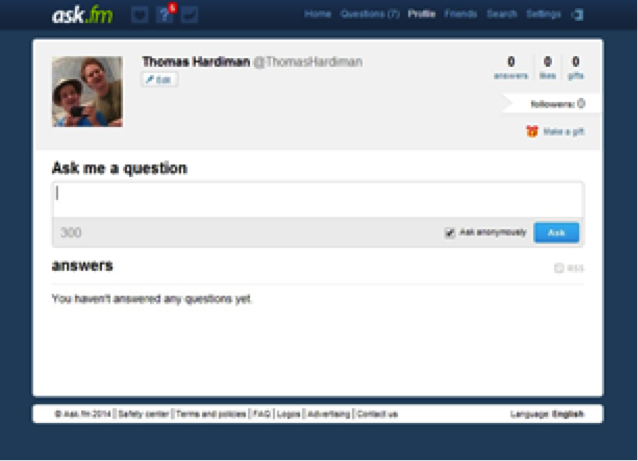 Yo
Yo
is a free iOS and Android instant messaging service. Yo app is created by Or Arbel and Moshe Hogeg.
Currently it has more than 50 000 active users
. Yo is not a standard communication application. It takes a minimalistic approach in terms of messaging. In fact, the main function this app offers is to send one word - "yo". It has launched as a joke on Aprils Fools day in 2014, and has evolved into a fully independent platform ever since. The idea of concentrating on the fact of the interaction rather than the context of it is unusual. Arbel describes it in the interview with
Mashable
: "
It's a new way to get lightweight, non-intrusive notifications. We are here to cut through the noise. We like to call it context-based messaging
." The application also allows for subscriptions and functions like a sms-notification, which alters the user whenever something worthy of attention happens.
Lately, the ability to add and search through the hashtags appeared
.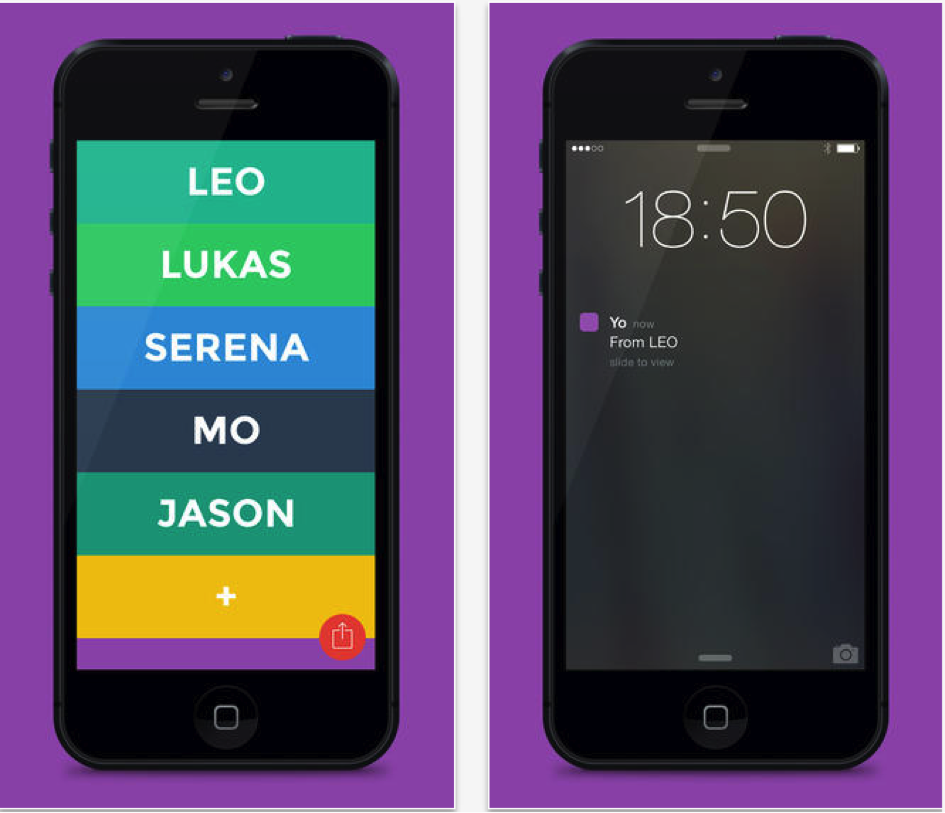 Netropolitan
Netropolitan is a social media platform for the 'rich and famous'. The site was founded by composer and former conductor of the Minnesota Philharmonic Orchestra James Touchi-Peters who wanted to provide a social media site for affluent and accomplished individuals. People wishing to join need only pay a mere $9,000 to join. Of that amount, $6,000 is the initiation fee and the remaining $3,000 is for the annual membership fee which users will continue to pay. So what does the initiation and annual fee get you? For starters, Netropolitan will offer an ad-free experience and will not promote any kind of paid promotions to its members. However, it will allow the creation of groups by businesses in which members can advertise to each other under certain guidelines. Once you are a Netropolitan member, you have access to status updates and discussion rooms with all other members. You can create groups, have conversations about everything from fine wines to classic cars to vacation destination recommendations. To use the site, members must be over 21 and must register using their real names. Moderators monitor the site and check for abuse, trolling and misuse.
For security and privacy reasons, Mr Touchi-Peters added that the site isn't indexed on Google, doesn't have any features for non-members, and will never release member names, numbers or other details
The Interface of Netropolitan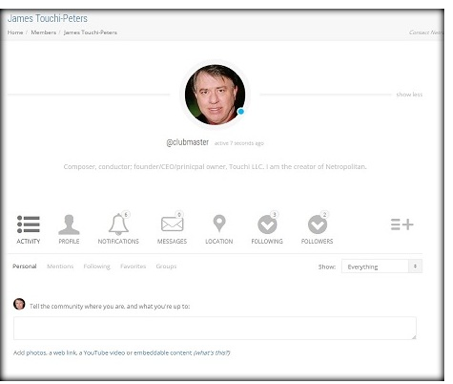 8. Gift culture
Impossible
Impossible is a social network platform founded and developed by Lily Cole. She's an model and catwalk star and steps with her new venture in the footsteps of her ex-boyfriend, twitter founder Jack Dorsey. Impossible acts as a social networking hub for good deeds. With this platform she's offers a online gift community. Users post wishes and they are answered with gifts. They can then respond to a successful wish-fulfilment with a 'thank-you' post. These thank-yous are recorded on the user's profile for all to see, a sort of virtual mark for their generosity. Impossible makes use of self-regulating function for when someone never gives or asks something inappropriate. The site can blacklist certain ideas or words. And if somebody puts up something defamatory or crude, there is a flagging-up option. Impossible has its own website and mobile application.
The website version with all the different wishes on the "wall":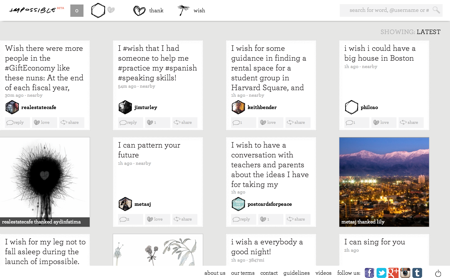 Interactions on the mobile application: