Research Question:
To what extent are climate change 'skeptics' present in the climate change spaces on the Web?
Method:
Derive list of climate change skeptics:

Implications
The question concerns the extent to which the Web stages climate change as a controversy vis a vis other media spaces, such as news. Here the Web is understood as a search-based medium, and controversy as the relative penetration of the skeptics in the climate change search results space. A comparison between the skeptics' resonance on the Web and in the news is the next step.
Te gebruiken Skeptici:
Organisaties
American Enterprise Institute
American Legislative Exchange Council
Center for Science and Public Policy
Committee for a Constructive Tomorrow
Competitive Enterprise Institute
Frontiers of Freedom
Marshall Institute
Heartland Institute
Tech Central Station
Personen
S. Fred Singer [5] [SF]
Robert Balling [5] [RB]
Sallie Baliunas [5] [SB]
Patrick Michaels [5] [PM]
Richard Lindzen [4] [RL]
Steven Milloy [4] [SM]
Timothy Ball [3] [TB]
Paul Driessen [3] [PD]
Willie Soon [2] [WS]
Sherwood B. Idso [SI]
Frederick Seitz [FS]
Bronnen/Externe links:
Resultaten files:
Om de tool te gebruiken zouden gebruikers in de toekomst het onderwerp (bijv. "climate change") kunnen invullen in het bovenste invulvak. De scraper geeft dan de uitkomst weer van de Google zoekresultaten. Momenteel moeten deze resulaten namelijk handmatig gekopiëerd worden vanuit de Google resulaten naar het bovenste invulvak. De aanbeveling is om dit proces te automatiseren zodat er in het bovenste invulvak alleen "climate change" ingevuld hoeft te worden en in het onderste invulvak een zoekterm binnen die resultaten.

Zoekresultaten genummerd en op volgorde van de zoekresultaten van Google. Zo kun je zien hoe hoog een website in de ranglijst staat. Daarnaast is af te lezen hoe vaak de zoektermen voorkomen in de site, ook als er geen resulaten zijn gevonden (bijv. "nr of results found = 0" of "nr of results found = 9" )
Mooi zou zijn een tabel waarin geklikt kan worden op de bovenste categorieën zoals bijv. result #, query, article, title, article, url, results (van de zoektermen binnen een site). Als er op wordt geklikt, kan de tabel worden geordend op bijv. 'result #' of op de results van de zoektermen. Zo kun je bijvoorbeeld zien waar de zoekterm het meeste voorkomt of welke site bovenaan staat in de Google zoekresultaten.
Resultaten in een tag cloud kunnen visualizeren
De lijst van Google resultaten nummeren en hierin laten zien of de resultaten hierbij terug komen en op welke plaats. En bij resultaten zien op welke plaats ze staan in de resultaten.
Aanbevelingen voor verder onderzoek
Affect Browser: http://www.softhook.com/affect.htm
Met deze tool kan geanalyseerd worden of er positief of negatief gesproken wordt over een bepaald onderwerp op een website. Er kunnen meerdere websites tegelijk onderzocht worden en worden ze in een affect cloud weergegeven. Dit is relevant voor ons onderzoek als tussenstap om de sites te contextualiseren. Dit gebeurt zowel op de mate van positiviteit en negativiteit en de taal waarin ze spreken.
tagcloud-Steven-milloy.jpg:

tagcloud_Richard_Lindzen56-.gif:

[nog niet in volgorde van Google, alleen een voorbeeld]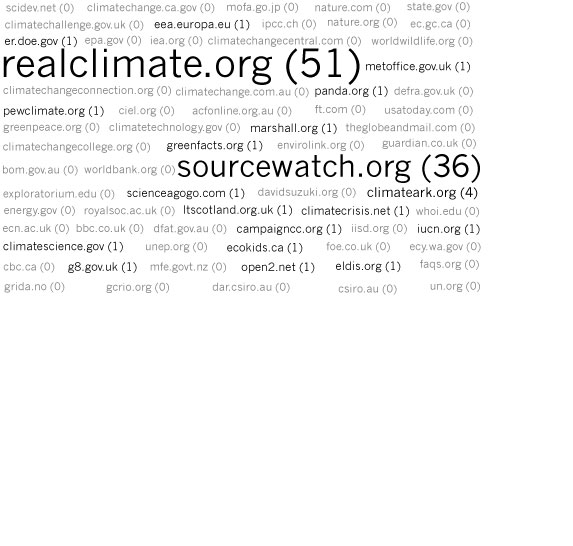 block_arranged.jpg:


tagblock-Patrick-Michaels.jpg:

---
Tags: ,
view all tags